Schlolarships
spreading the love
A great way to spread the love is to support someone else in their desire to learn a new trade. Many interested artists have a passion to learn metalsmithing and even hidden talents to share but may be challenged with the funds to pay for classes and necessary materials and tools. Studio3 offers scholarships as an opportunity to encourage others to share blessings and sponsor someone in need of assistance.  Any amount is welcome and important because it all adds up in paying it forward and spreading the love!
Anyone interested in applying for a Studio3 scholarship simply needs to contact Studio3 via email, requesting a scholarship application.
You can donate any amount as often as you wish to the scholarships below.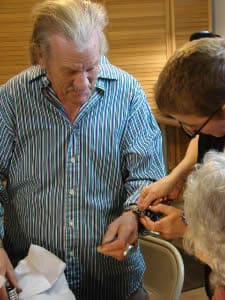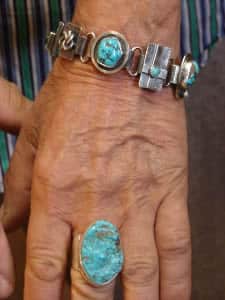 Bill Garren (Turquoise Bill)

Real teachers don't just teach; they touch your life. Real teachers inspire, encourage and provide a safe place to make mistakes, grow and learn. "Turquoise Bill" Garren was that teacher for me. He inspired my love for turquoise and silversmithing and taught me about jewelry making while teaching me about life, love and giving. He was the most generous artist; giving away countless pieces of turquoise and handmade jewelry to his fellow jewelry artists and friends. Bill and I spent many years together at Haywood Community College. He was the first to arrive and the last to leave at the opening of my first school. Bill loved Studio3 and his love, knowledge, generosity and spirit is still here. He will always be in my heart and in every piece of jewelry I create. It makes perfect sense that I would offer a scholarship in his memory. All donations to his fund will be available to new jewelry students to support their studies at Studio3. Any student who is honored by receiving this scholarship will be introduced to Bill thru the beautiful art and all that he taught me.
Thank you sincerely,
Sherri Burch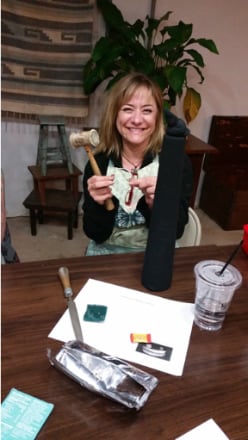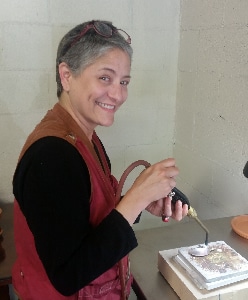 Dabney Barham

A single smile can sing a thousand songs and a single life can tell a thousand stories. Dabney Barham's smile could light up a room and her artistic energy inspired and motivated many.  She lost a long battle with cancer years before her 50th birthday, but she never stopped living because her smile and creativity is eternal.
Dabney's home was full of artistic endeavors and jewelry and fashion was one of her favorite passions. I will never forget how excited she was when she made her first ring in class. Her creative smile was intoxicating, and it is my hope that everyone can find that kind of joy and celebration in their creative process.
Her smile was a great teacher and I am honored to offer a scholarship fund in Dabney's memory. This fund will be awarded to a new student to support their studies at Studio3. I hope this scholarship will bring many more smiles!
Thank you sincerely,
Sherri Burch